356 update
August 19, 2017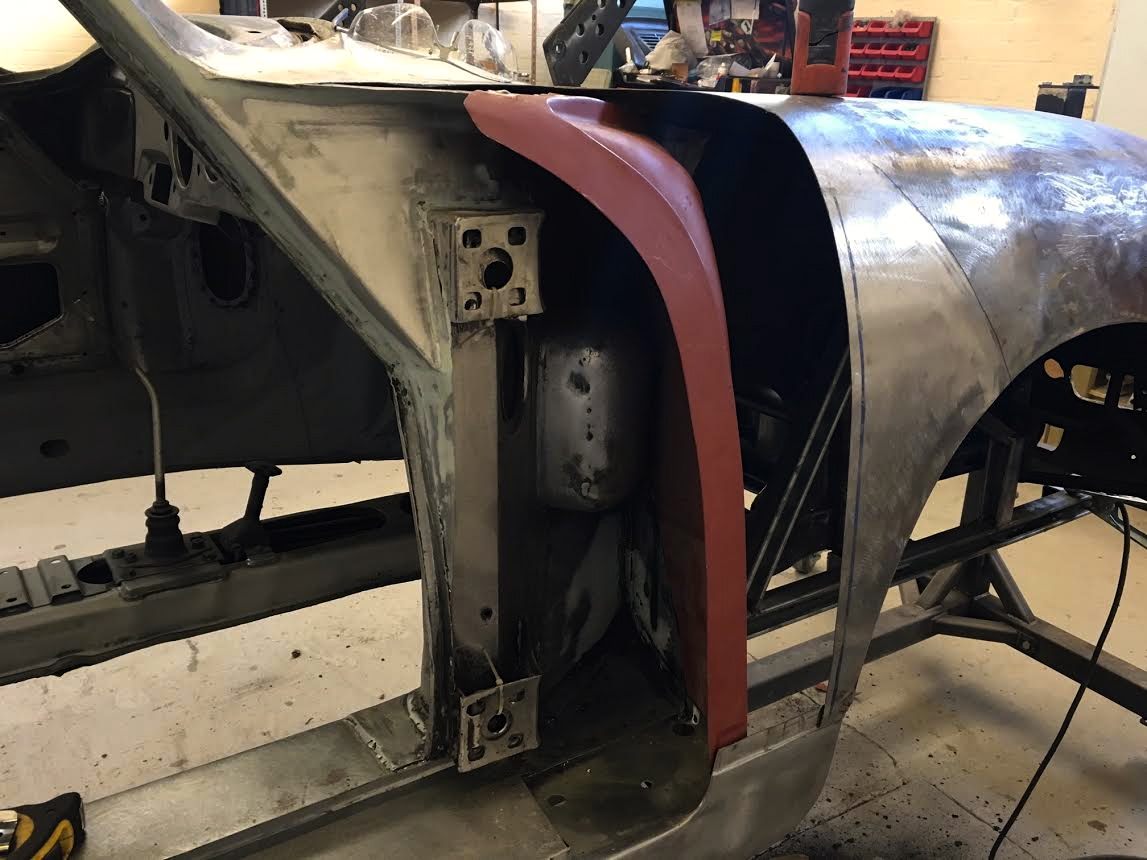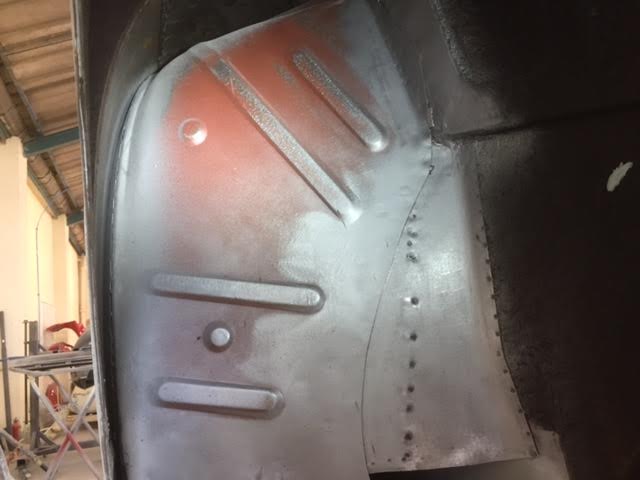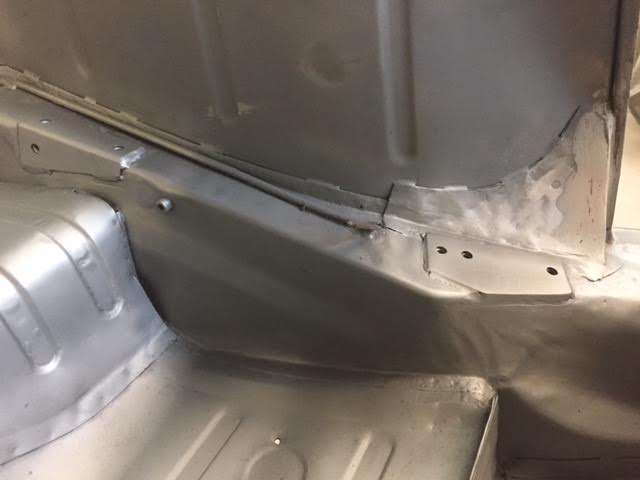 Roll hood mounts (fitted above)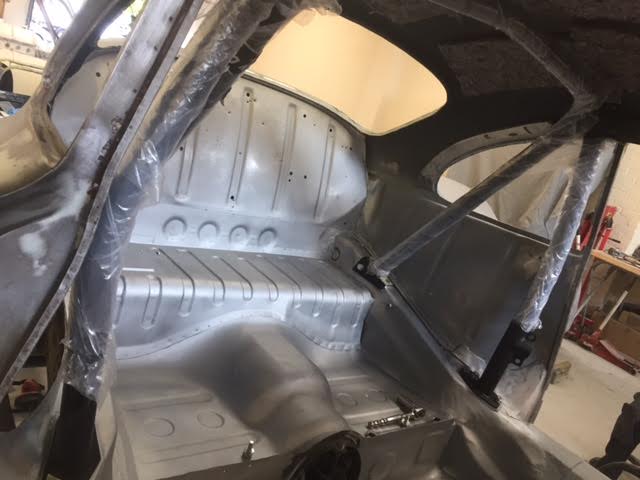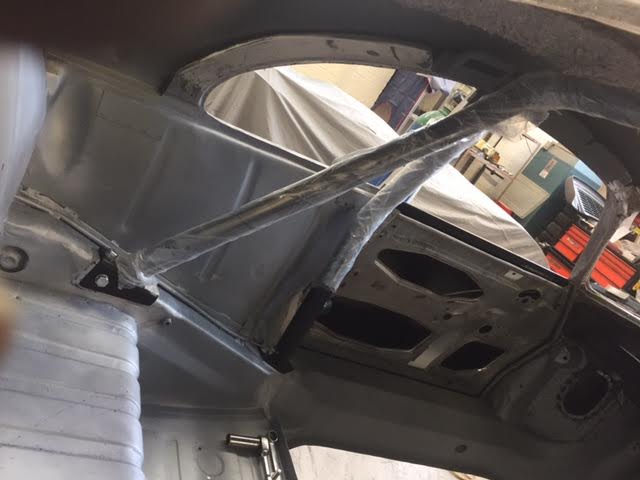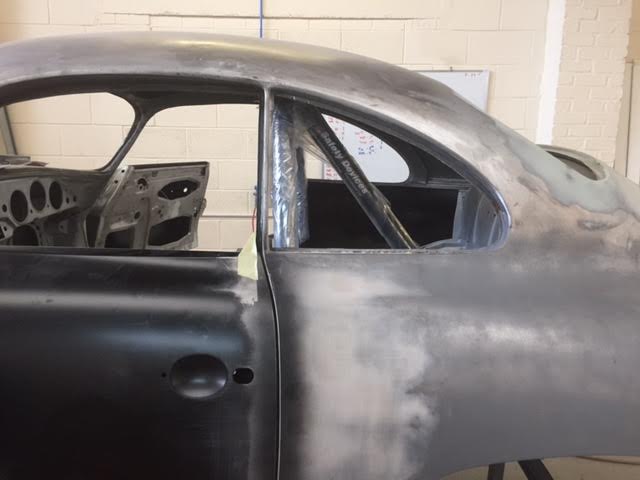 Porsche pic of the week
August 18, 2017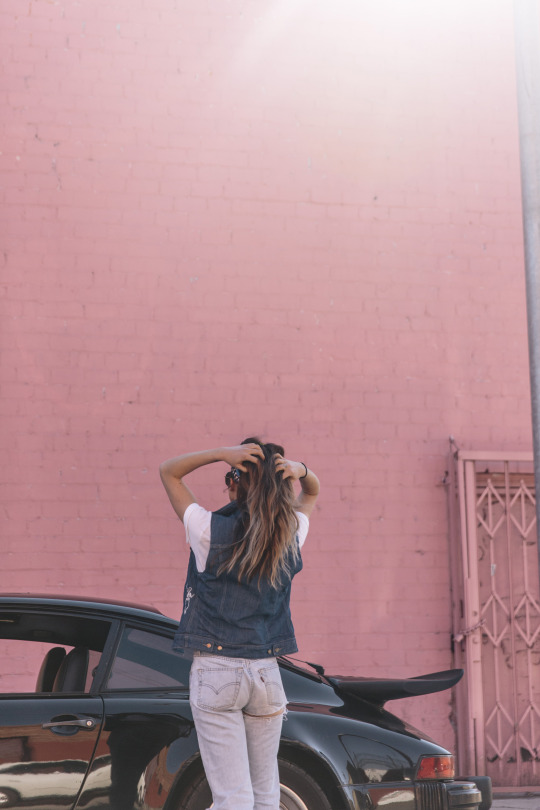 Porsche 3.2 (similar to our black 3.2 we have for sale)
Nice to see classics being used
August 13, 2017
I followed this beautiful E-Type Jaguar FHC out for a Sunday drive. Lovely to see them being used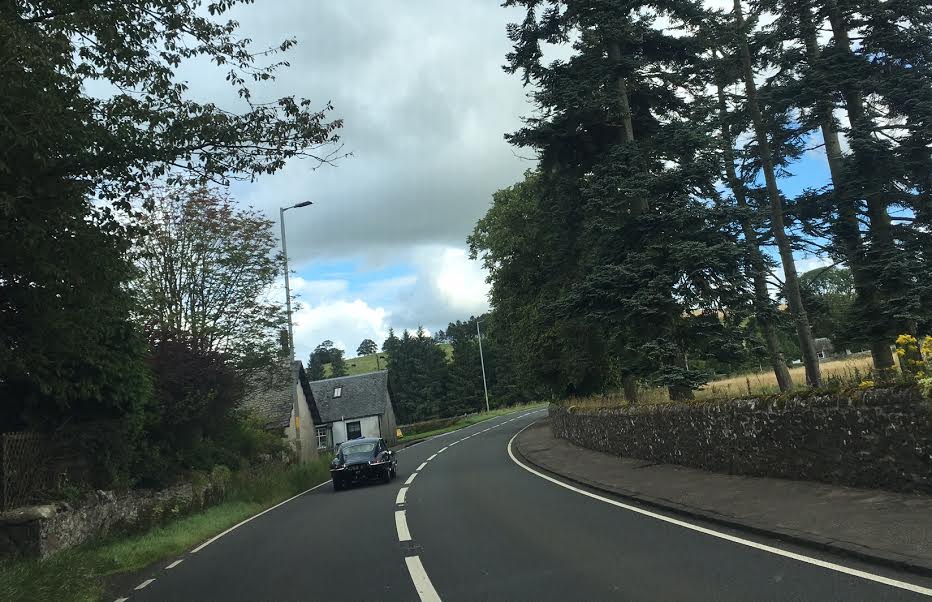 Porsche 968 Club Sport update
August 11, 2017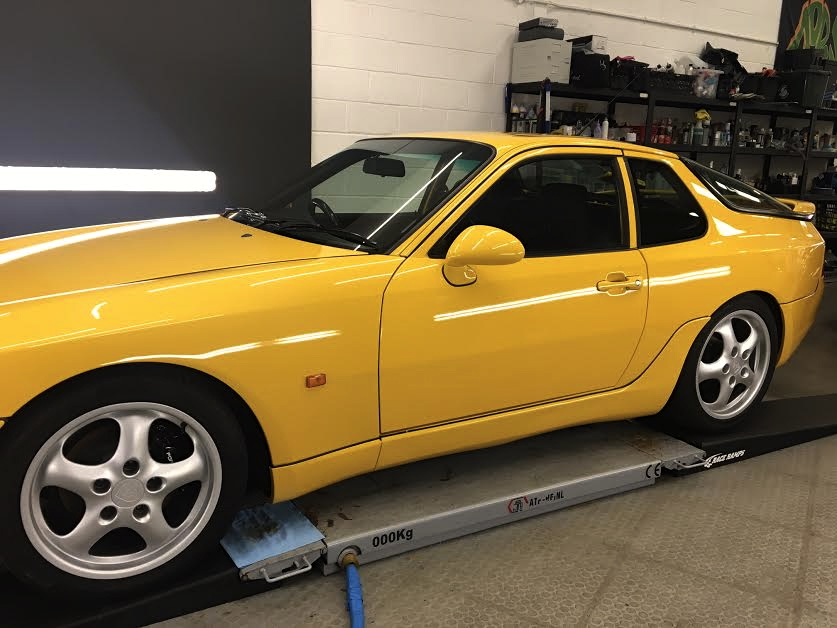 Club sport at ultimate shine in Stirling where Roy Kunz is doing his magic again.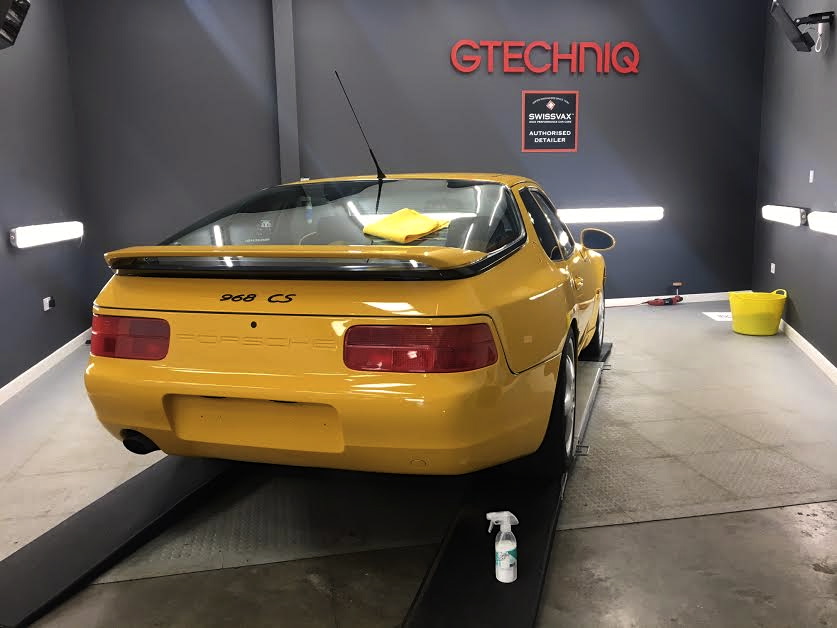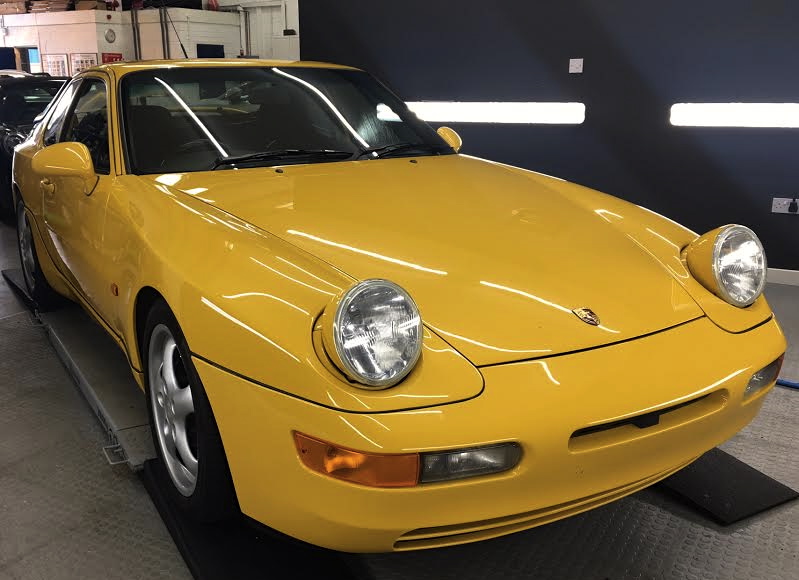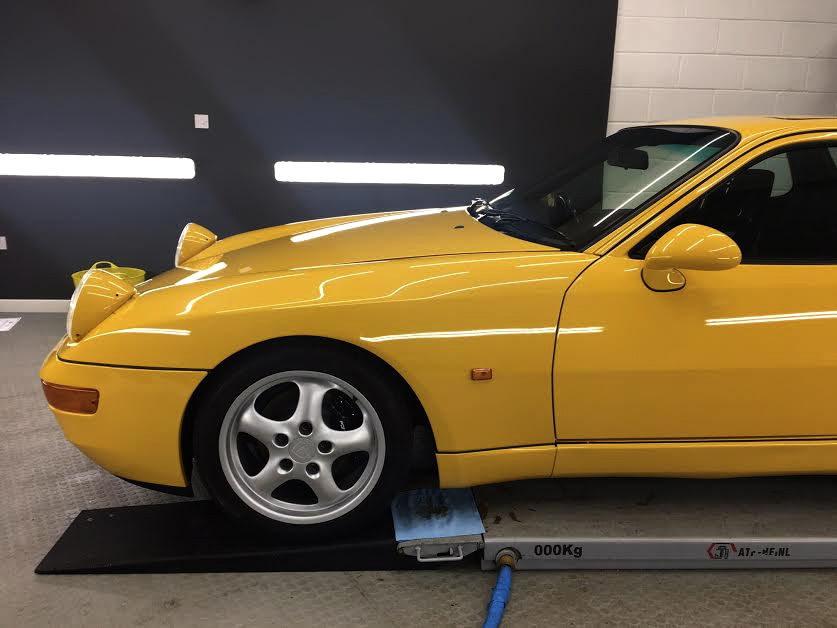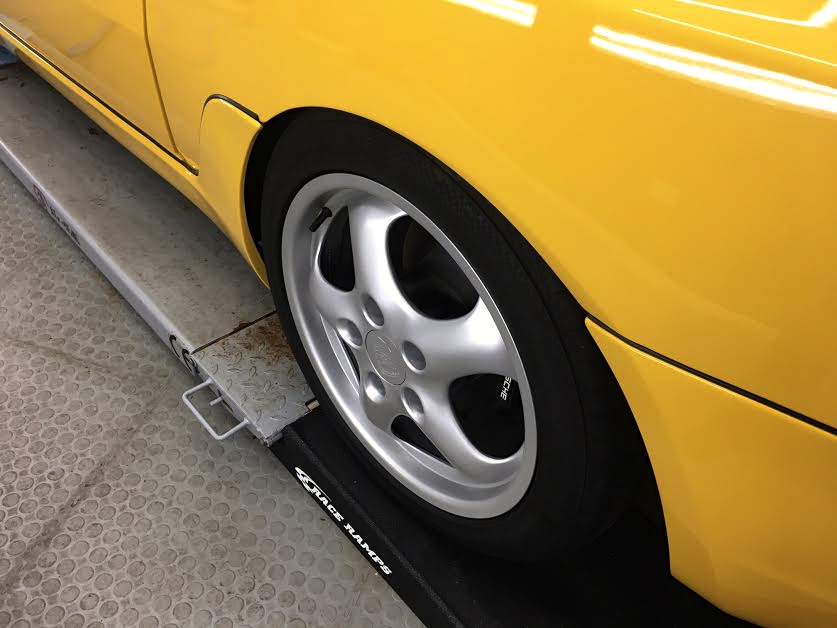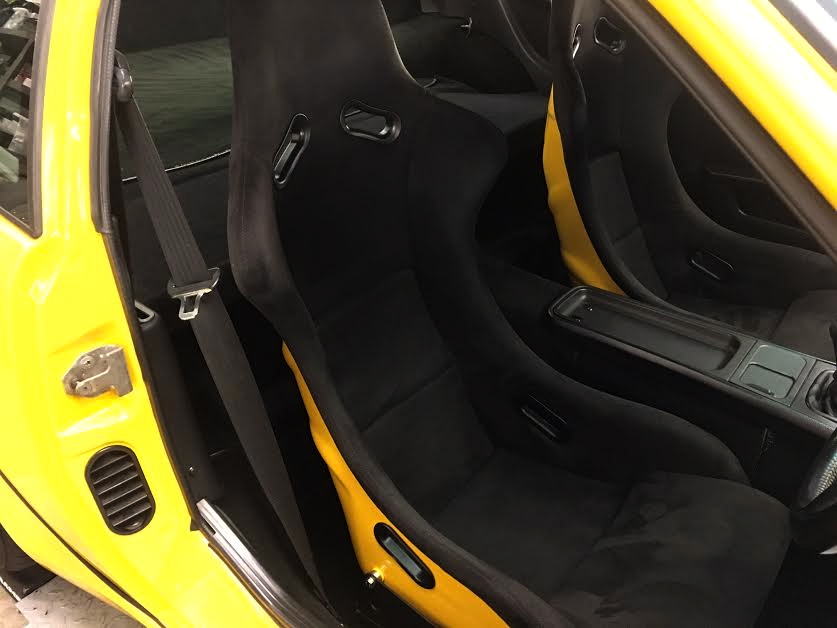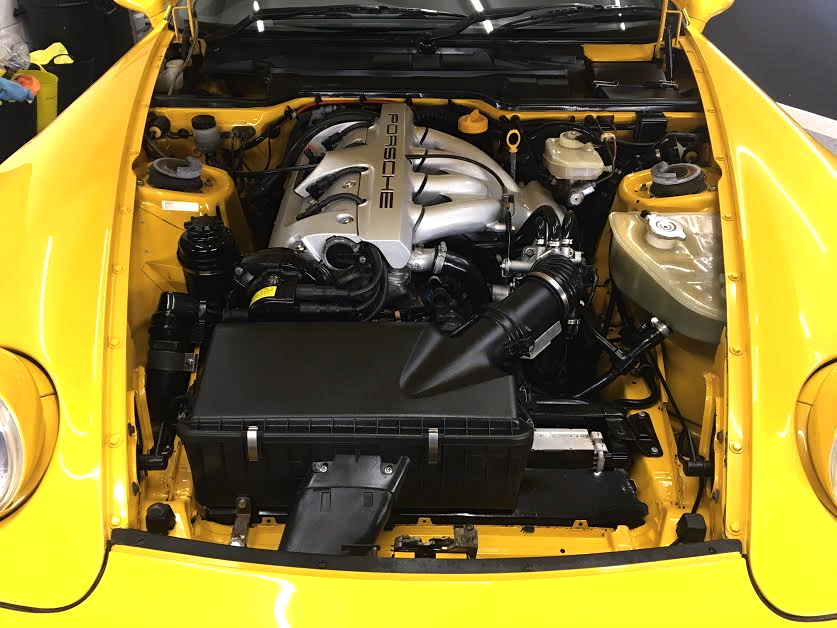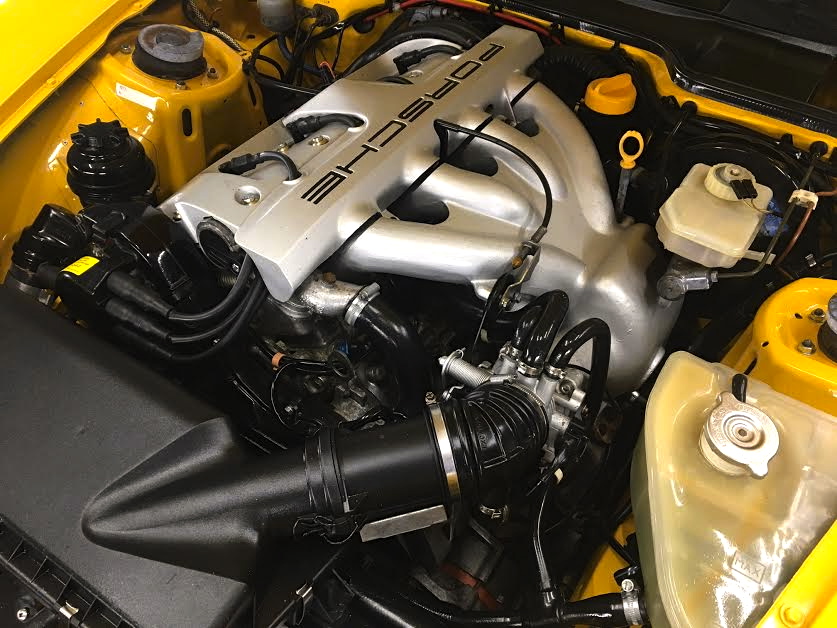 (Below) We removed the original decals to polish the car properly (expensive but the only way to do it correctly)
New Stock Porsche 911SC Targa
August 11, 2017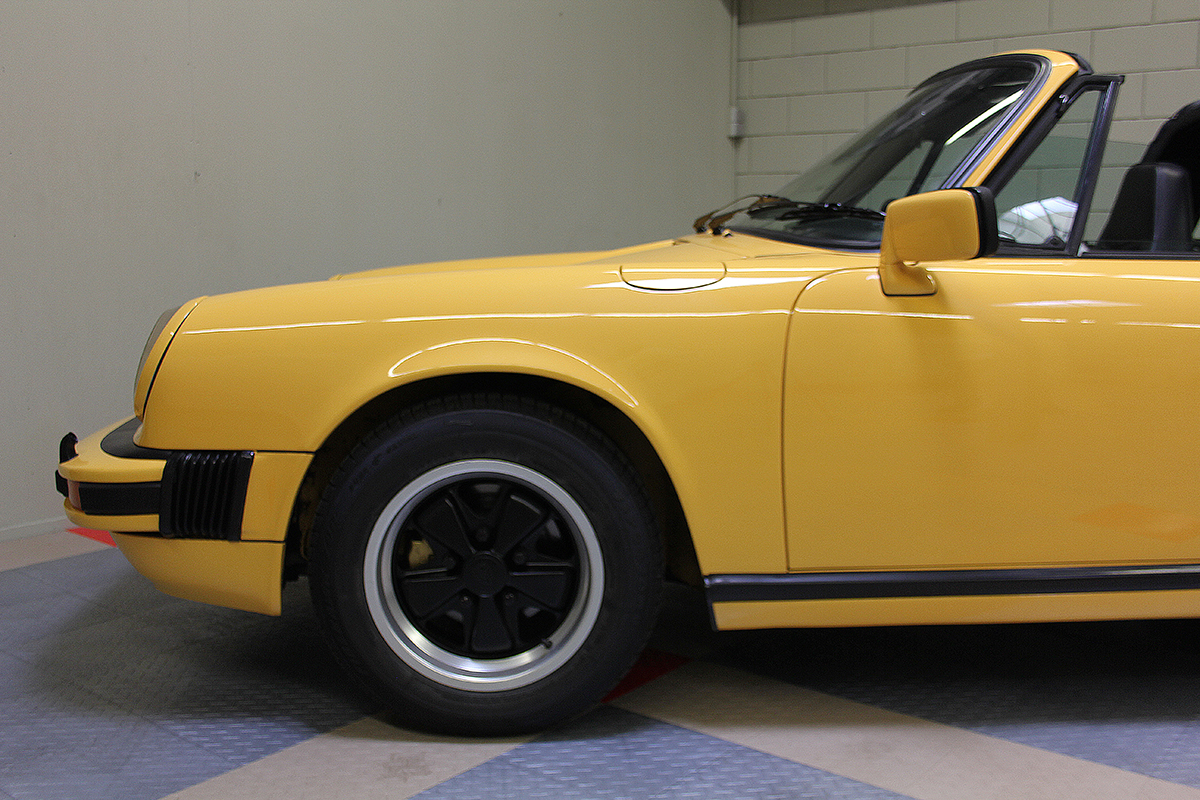 Very rare in Talbot yellow, looks amazing .
Porsche pic of the week
August 11, 2017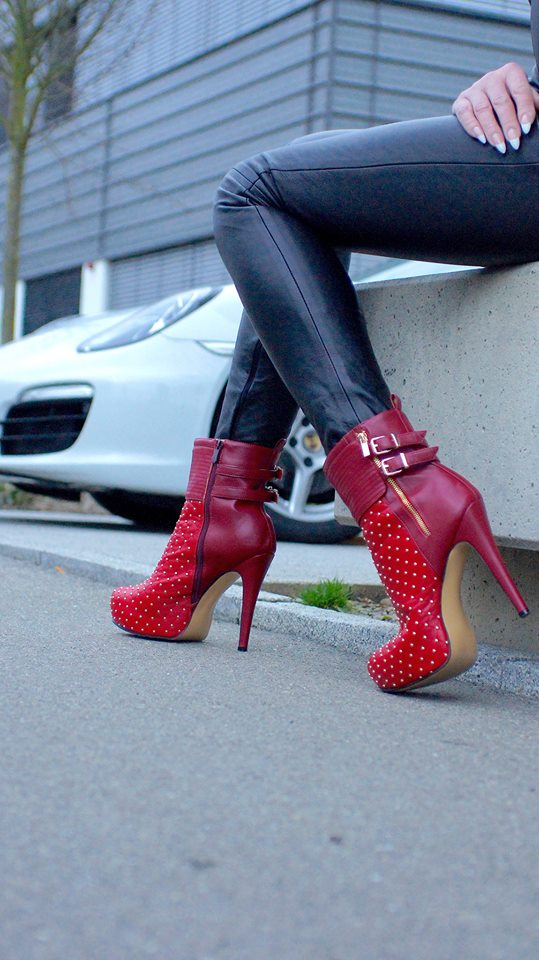 Porsche 356A right hand drive update
August 9, 2017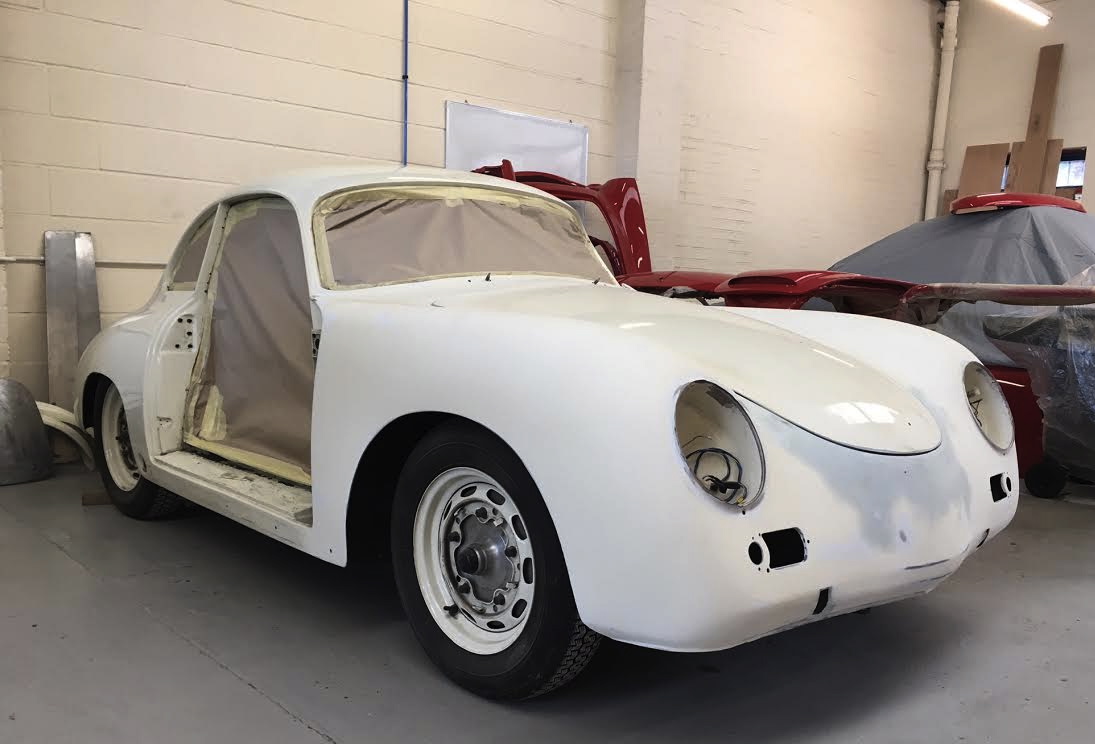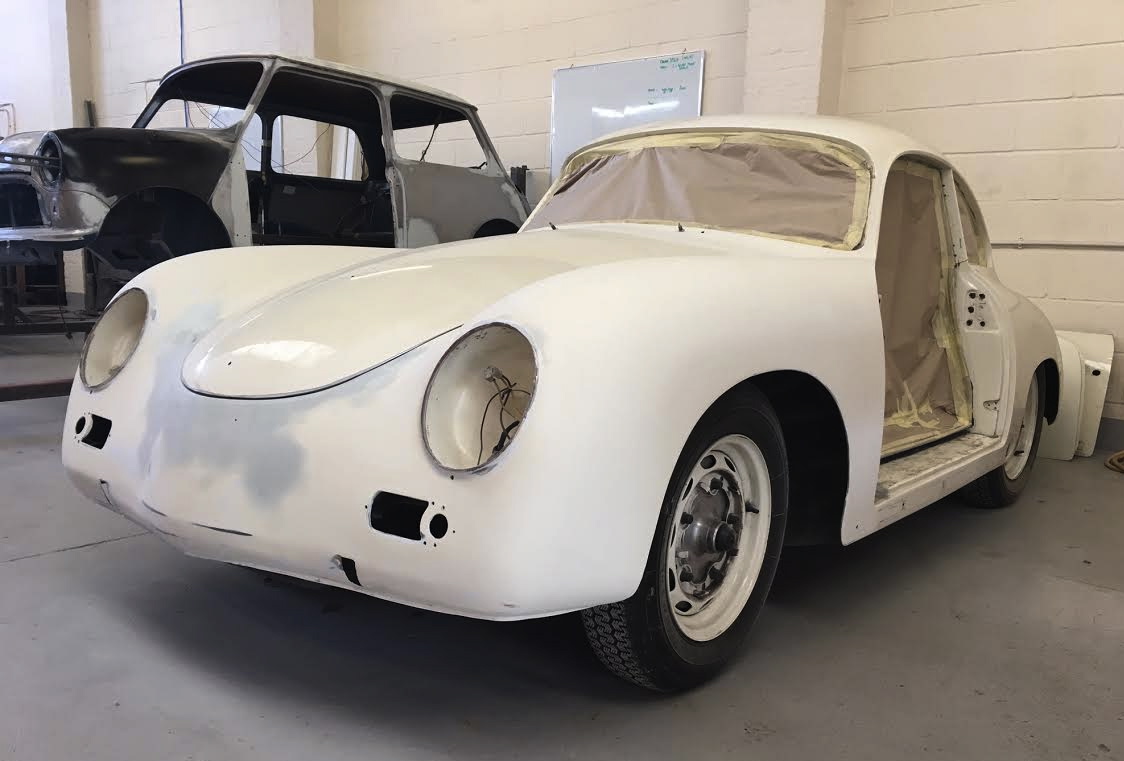 Having found this beautiful rust free Porsche 356A in Cyprus, it seemed our duty to return it to its original colour of Silver.
"The Rally Gods" – Ignition 2017 Jimmy McRae, Ari Vatanen, Stig Blomqvist, Timo Salonen, Miki Biasion and Markku Alen
August 7, 2017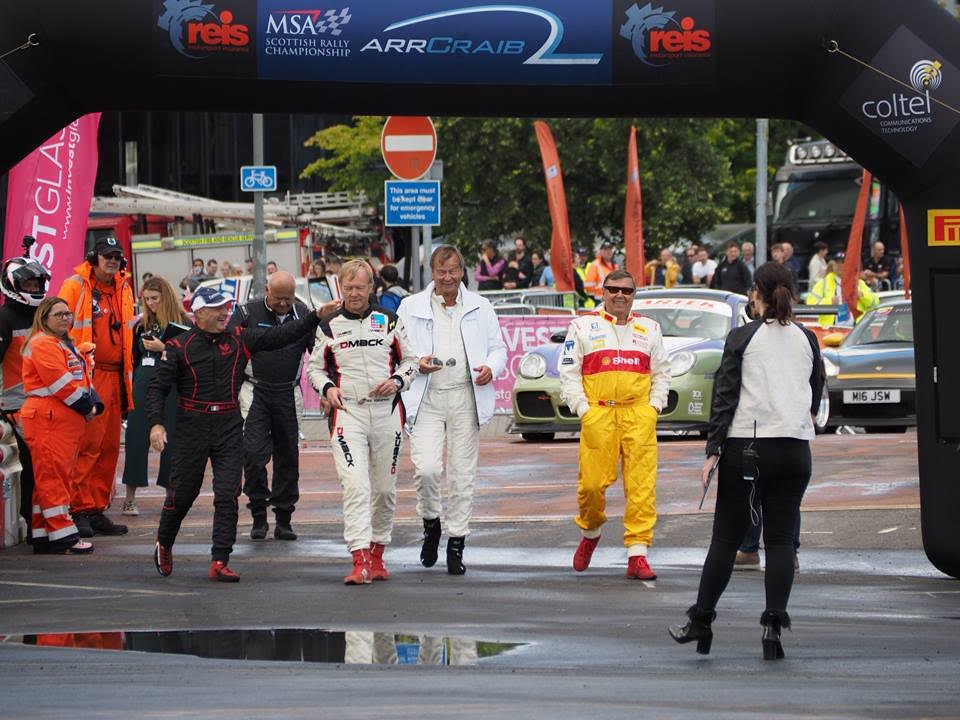 Thanks to Sheila Munro Tulloch for the picture
Nice link to The Edinburgh Watch company Video with Border Reivers Porsche
August 7, 2017
Click on the above link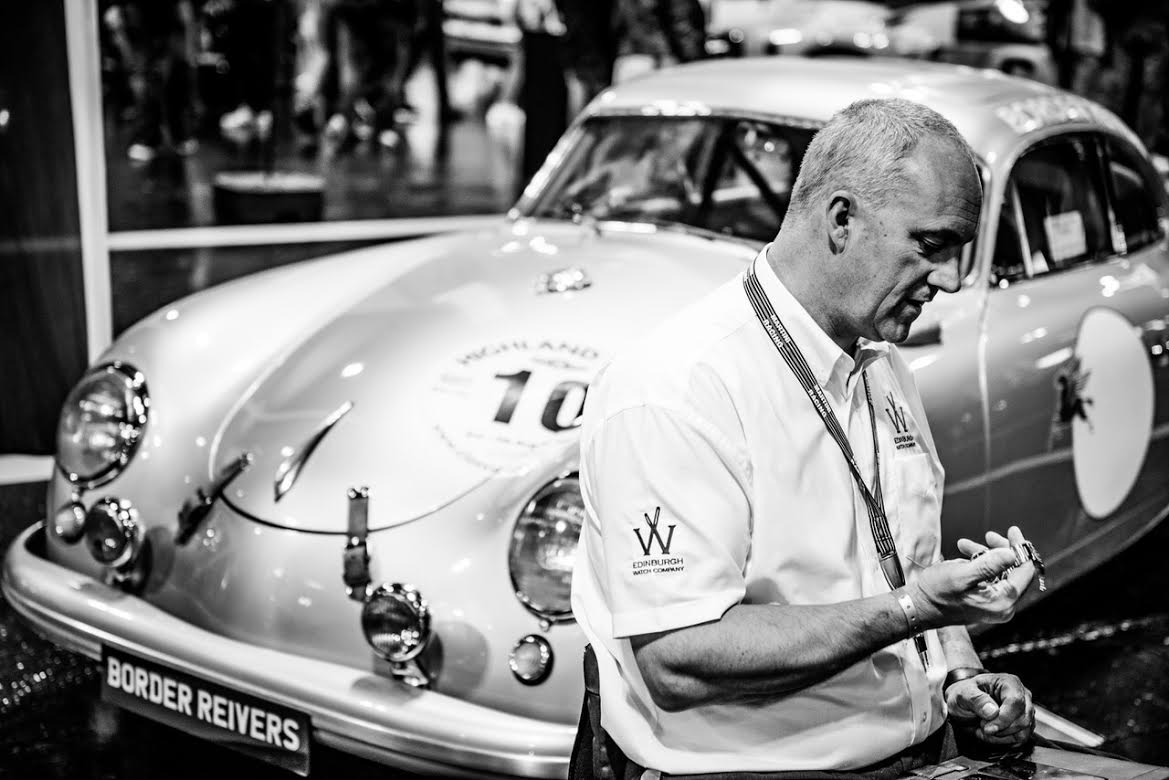 Jonathan Gilbert CEO of The Edinburgh Watch Company (above) and his beautiful assistants Sarah and Colette (below)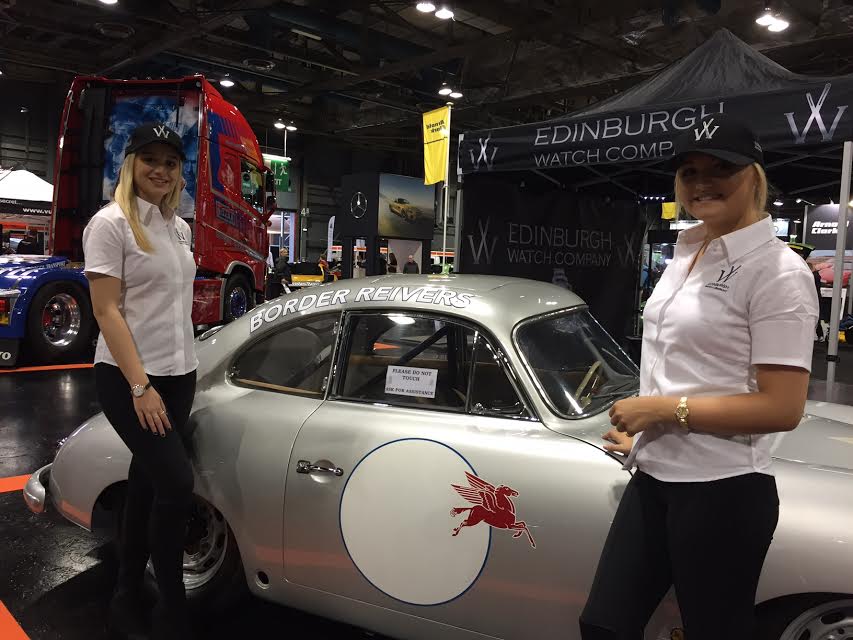 New Stock Land Rover Defender SVX 1 owner 9800 miles Limited Edition
August 5, 2017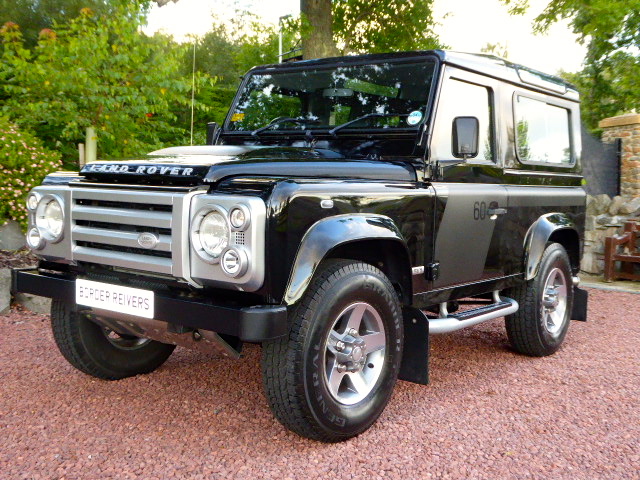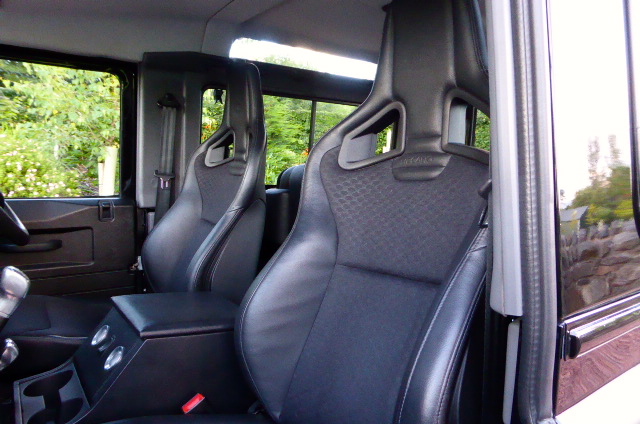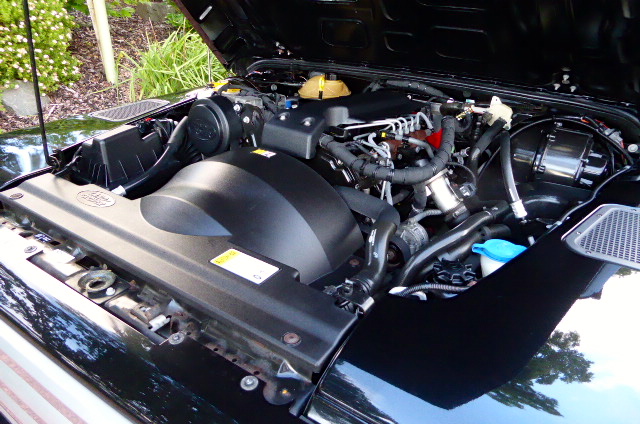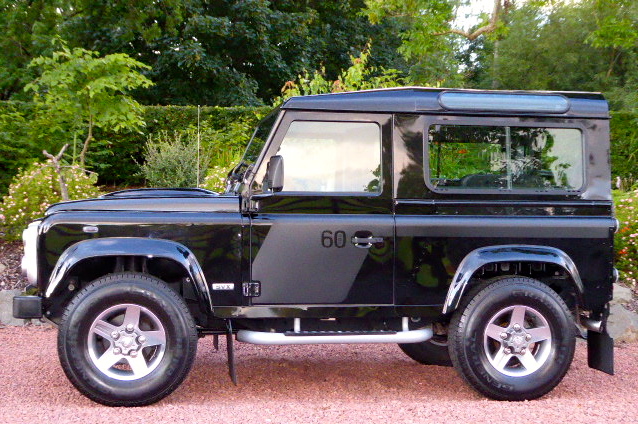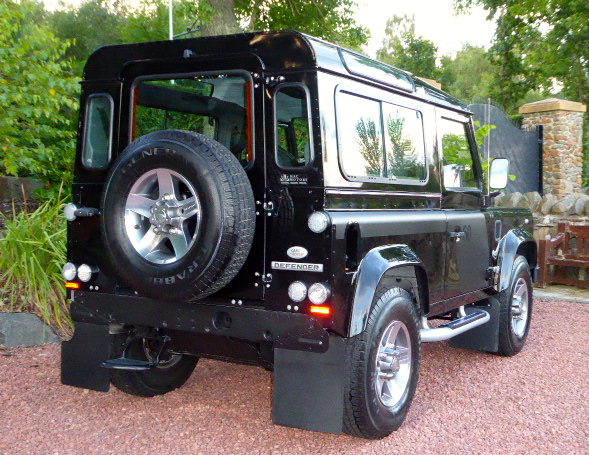 New stock due in shortly Porsche 964 Cab (concours winner) Porsche 968 CS (Club Sport) Mini Cooper S Mk1
August 5, 2017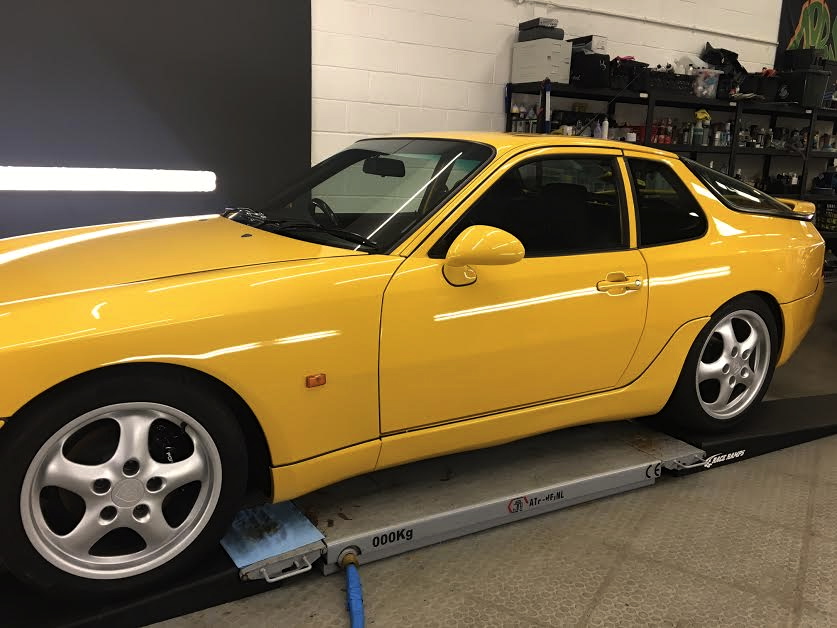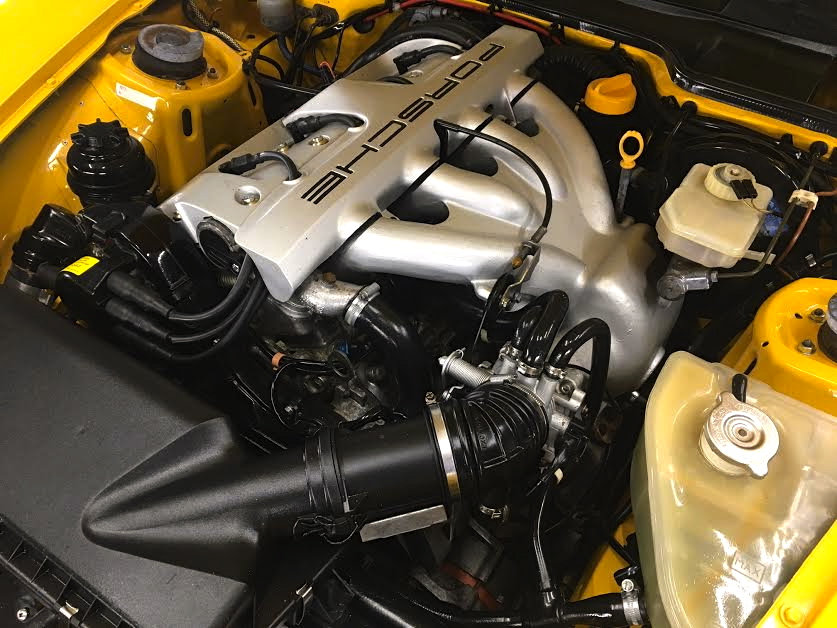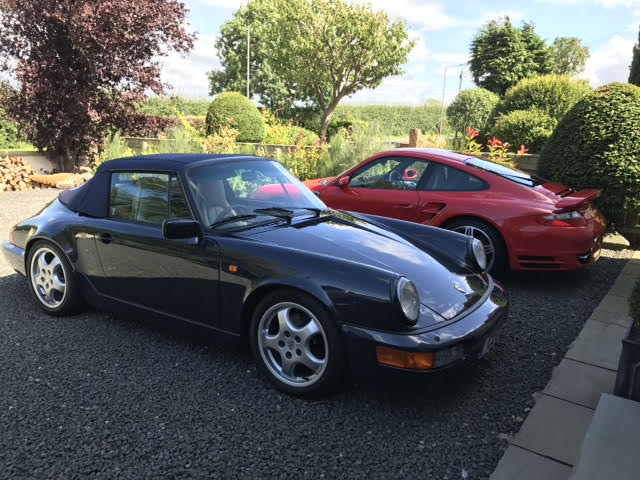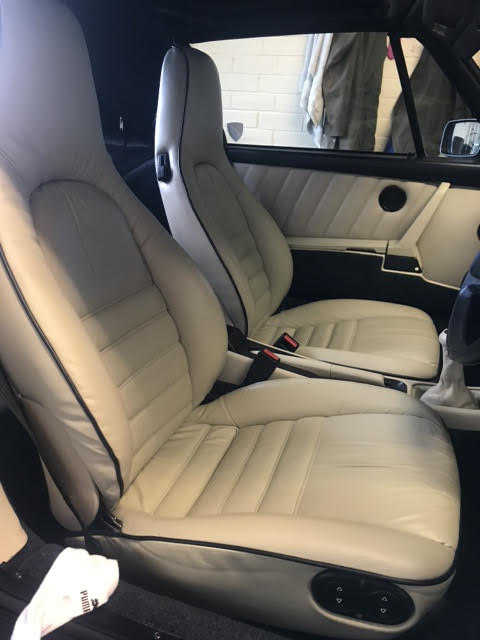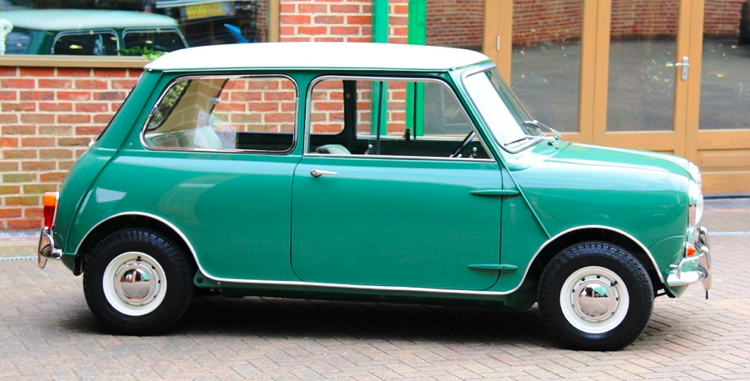 Library picture of mini but same colours
Border Reivers at Ignition Festival of motoring
August 5, 2017
Border Reivers at Ignition festival of Speed.
We have a 1954 356 Porsche on display with our partners at the Edinburgh Watch Company. When you visit the EWC stand we are sure you will agree we have the perfect partners with the finest watches, the prettiest girls and the coolest car.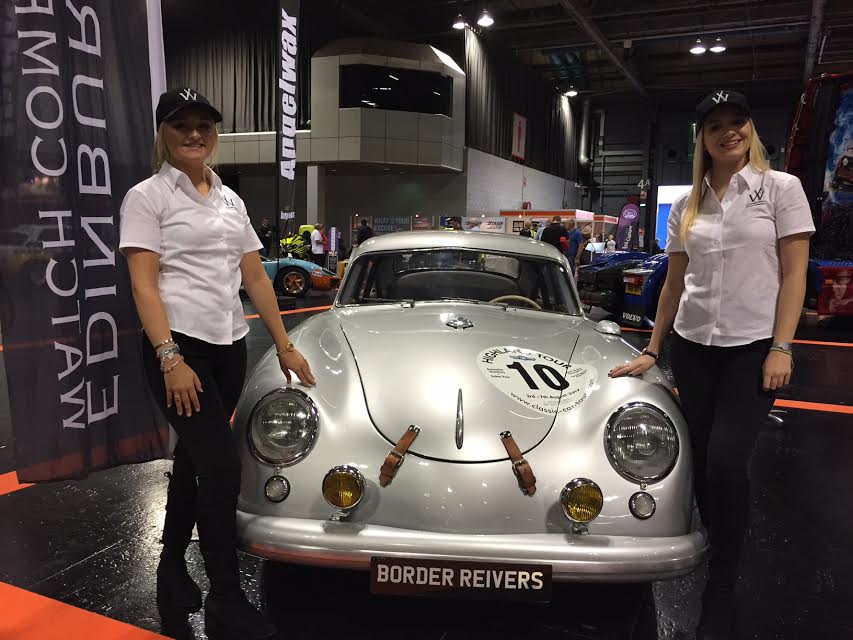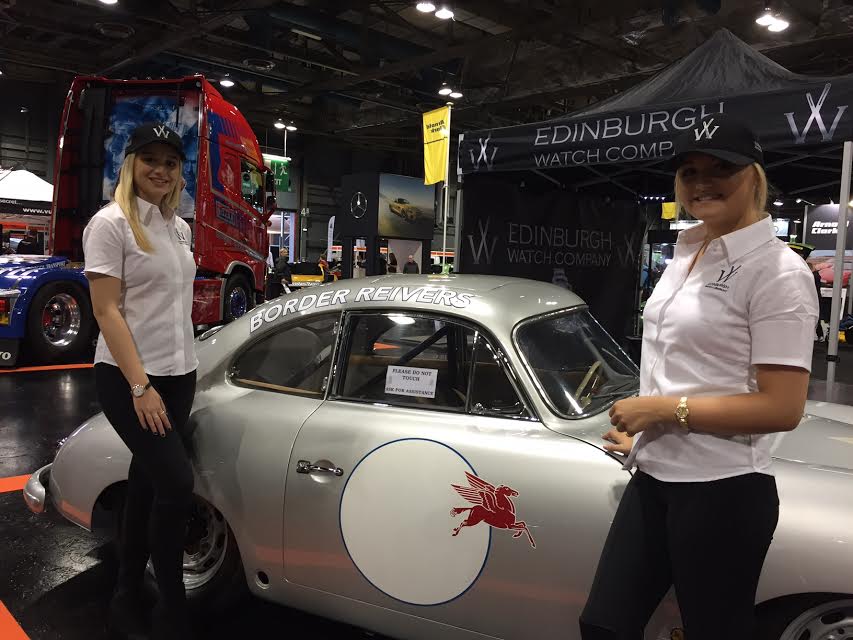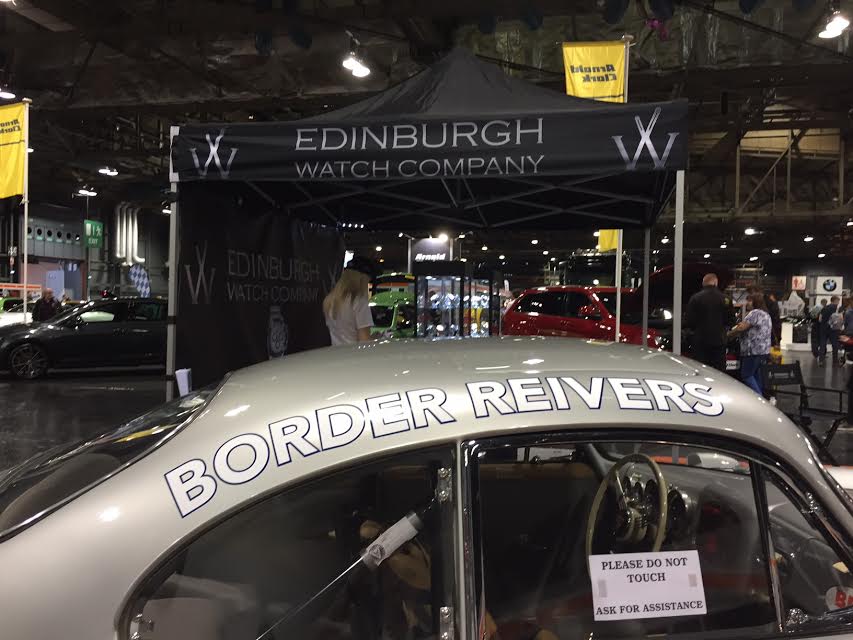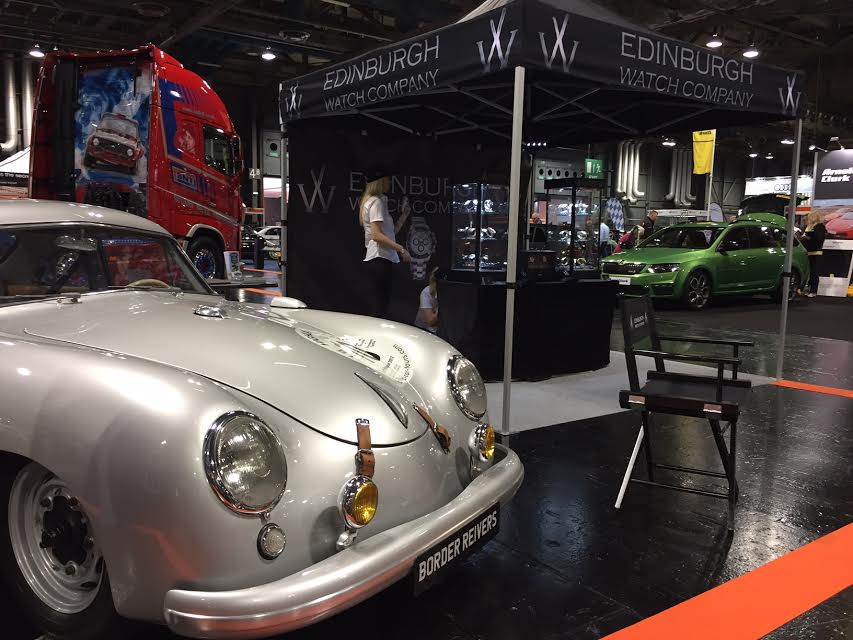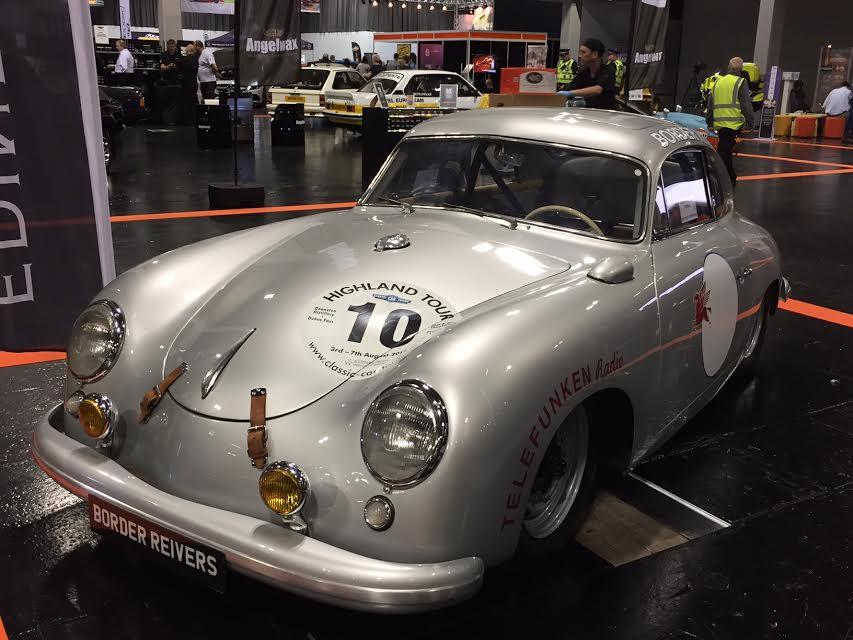 Below : Border Reivers 18 car stand from last year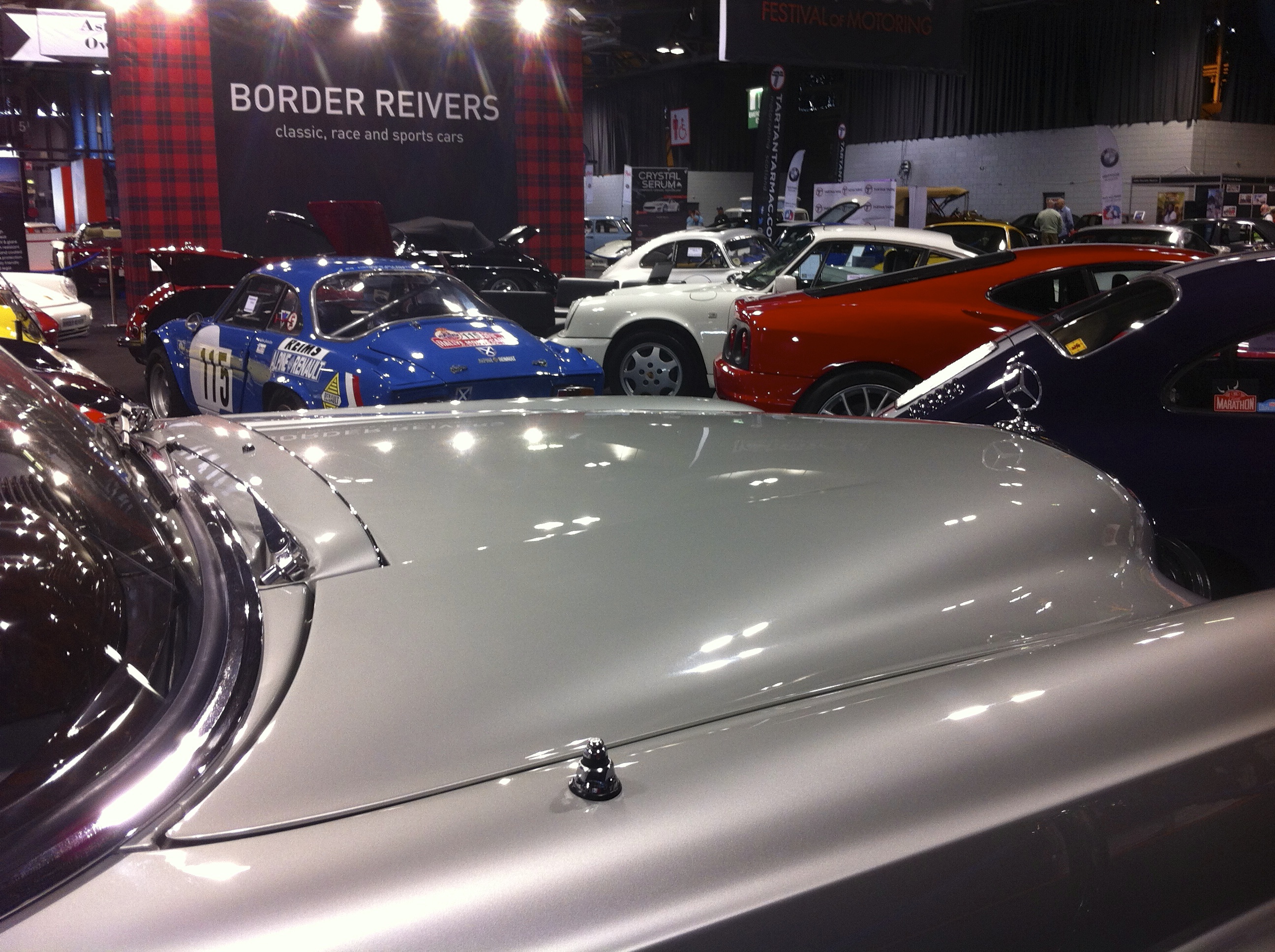 Porsche Pic of the week
August 4, 2017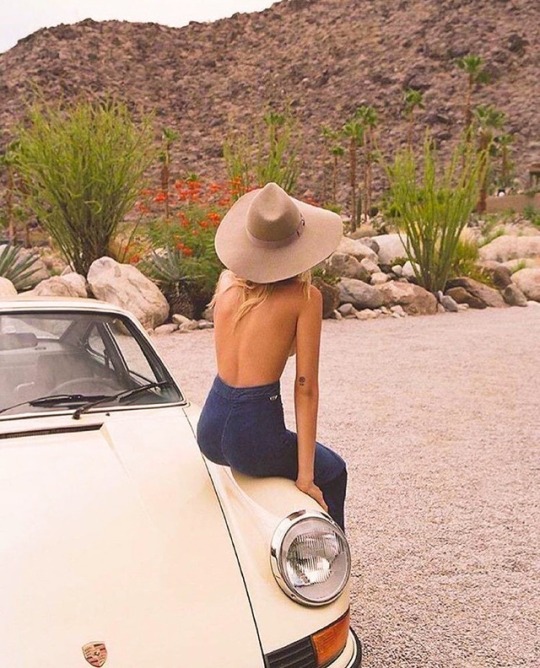 Porsche 911
Watch out its behind you ……….
August 4, 2017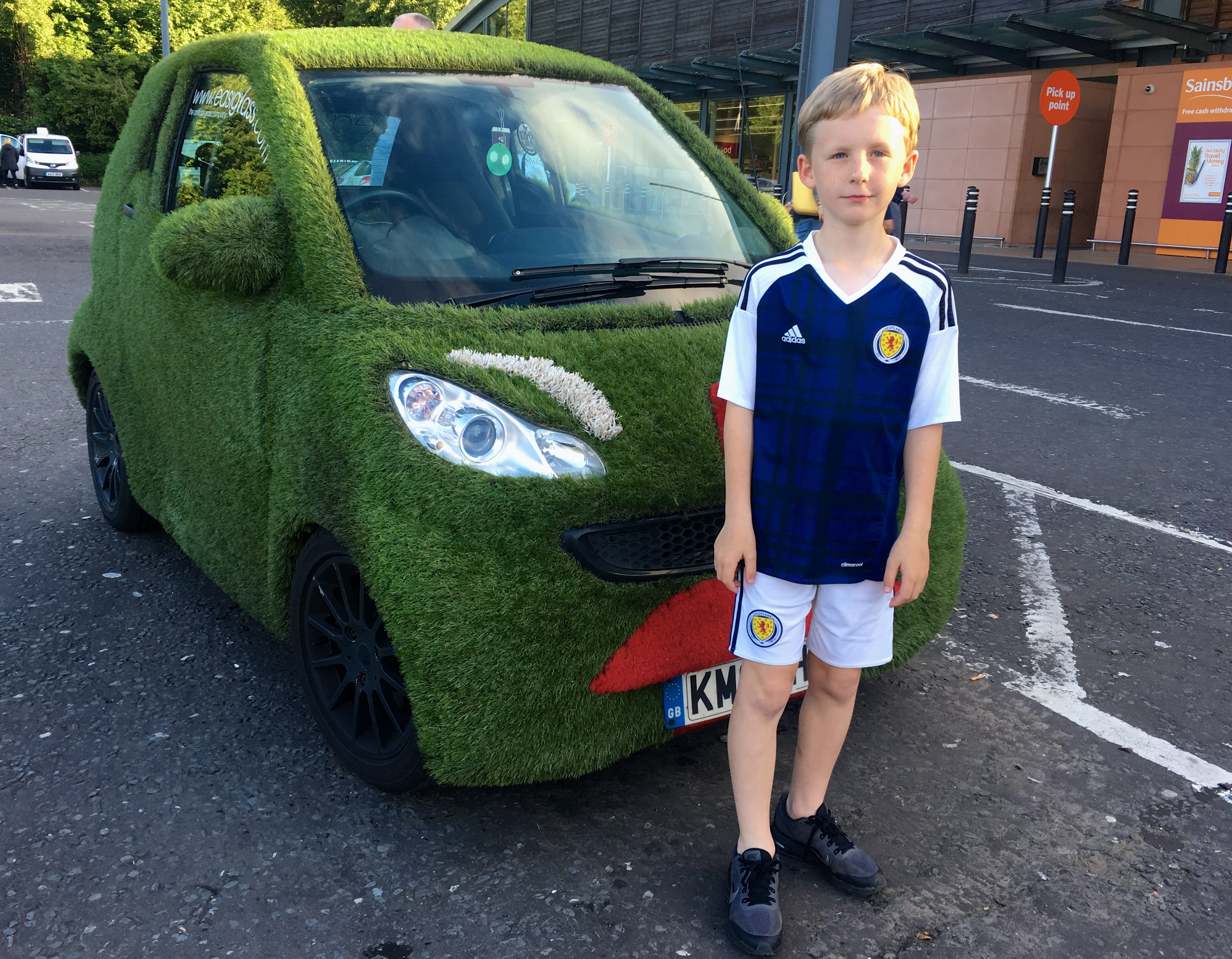 What the hells going on with the owner of this Grass car ? It almost mowed us down !
The free range kids collect the new school bus
August 4, 2017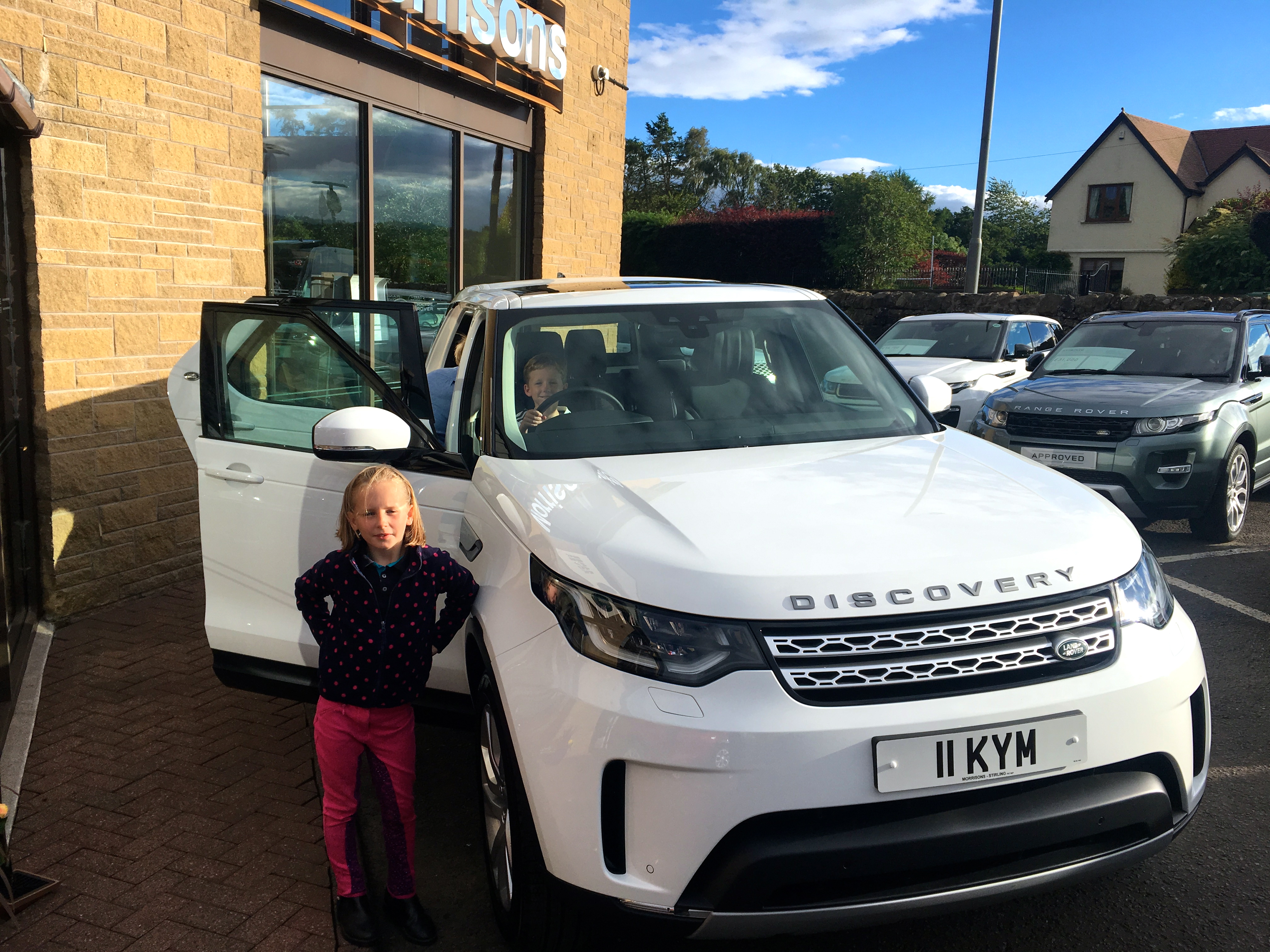 Goodwood Motor Circuit Track Day
August 3, 2017
Classic Car Tours
105db Circuit Track Day
Goodwood Motor Circuit Thursday 17th August 2017
 
The entry list is now nearly full for our exclusive 105db circuit track day on Thursday 17th August at the historic Goodwood Motor Circuit.
We have an amazing range of cars entered, including this Porsche 917K.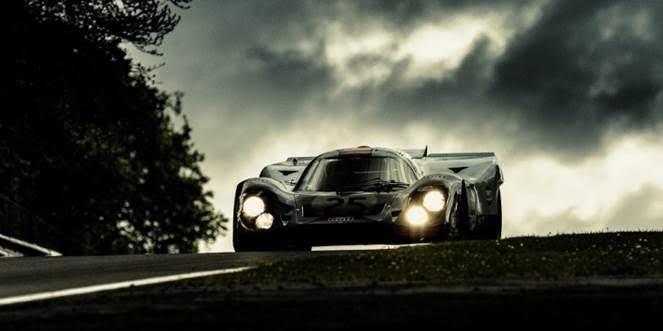 Limited to 30 cars only and open to owners of classic, sports, performance and prestige cars, we now only have two places remaining.
Full details can be found via this link http://www.classic-car-tours.com/goodwood-circuit-day
To participate and request an entry form, contact us at info@classic-car-tours.com
Regards & best wishes
Bill Telford
Tour Director
Classic Car Tours
00 44 (0)141 956 5626
Mobile 00 44 (0)7876 211785
www.classic-car-tours.com
www.facebook.com/ClassicCarTours
Attack of the flying Ants
July 29, 2017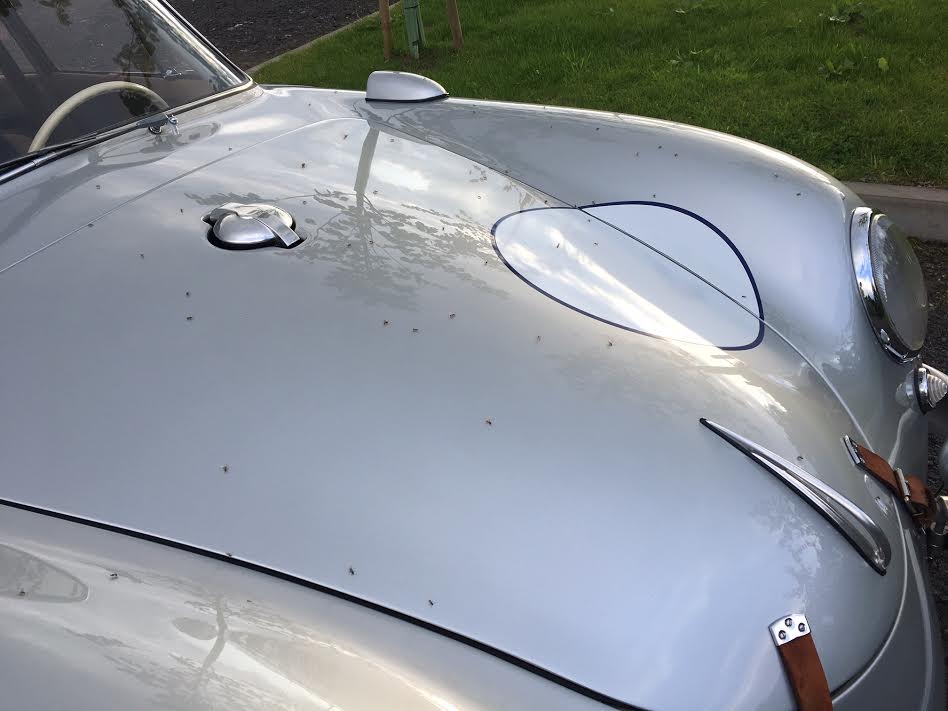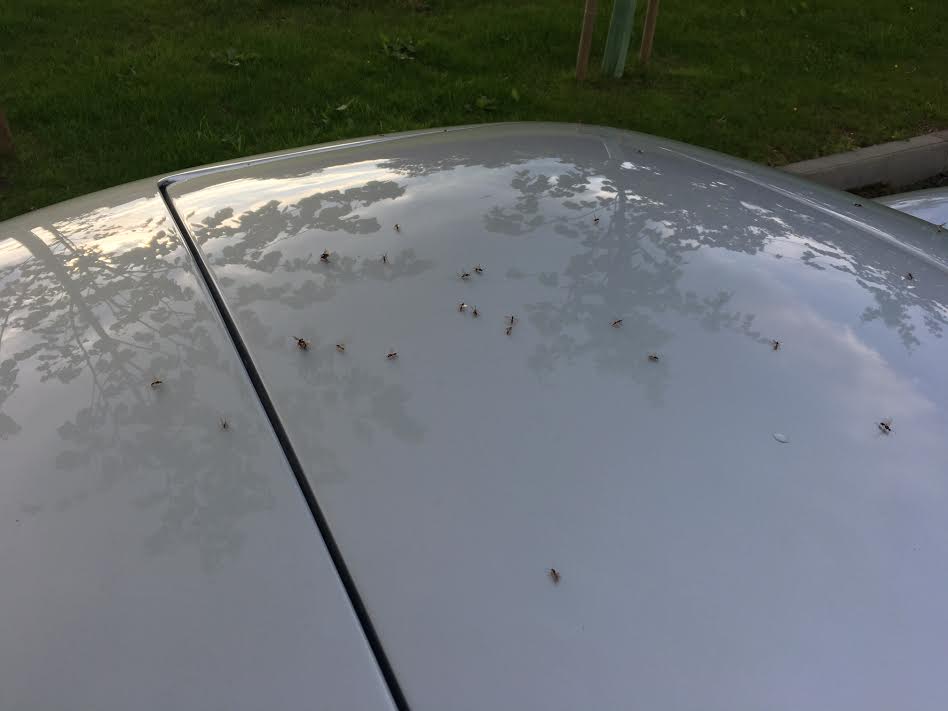 I had heard about the swarms of flying Ants this year but this was incredible, the car was almost black with the little buggers but by the time I took shelter, then got my camera, most had moved on (thank goodness as they had even got inside)
Lets not forget about George
July 29, 2017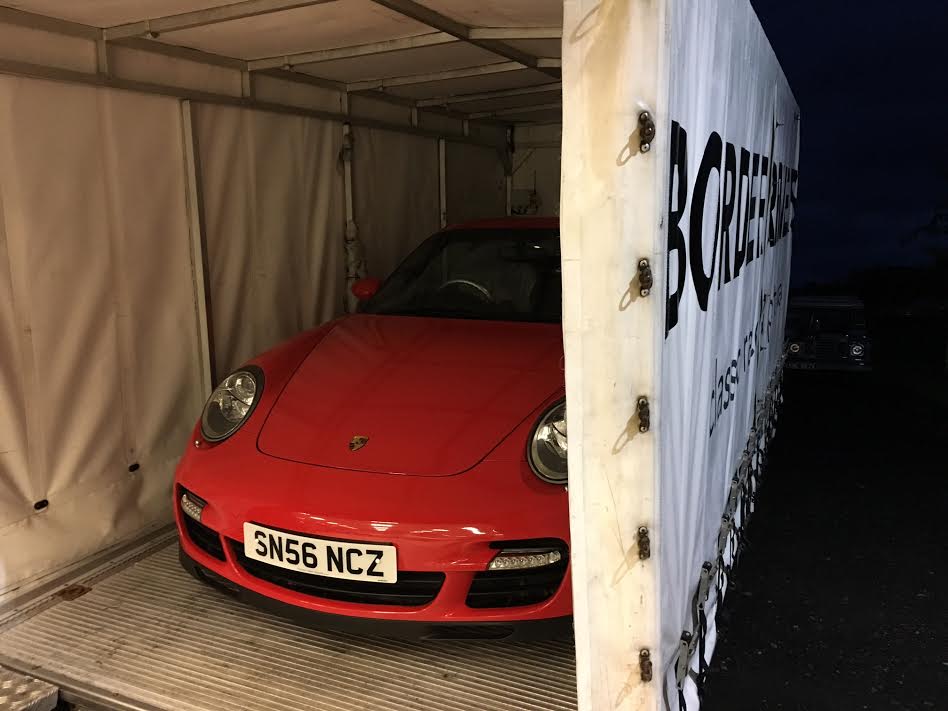 George travels through the night to deliver your purchase, while most of us sleep ……
Porsche pic of the week
July 28, 2017
New Stock E-Type Jaguar Series One 1966
July 26, 2017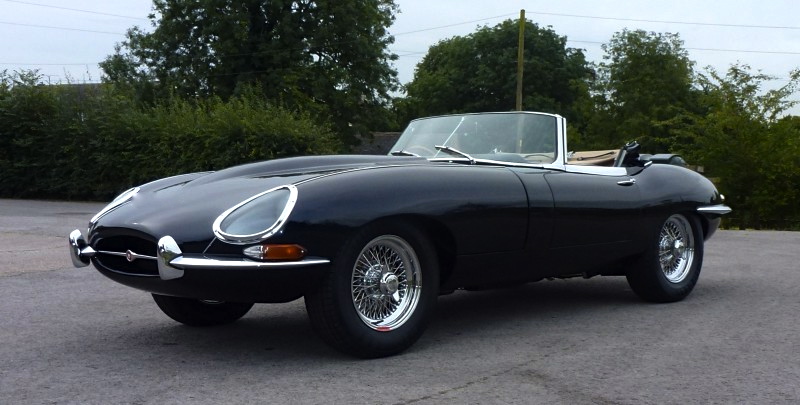 New Stock… Series One E-type from 1966 (midnight blue)
Border Reivers Support The Edinburgh Watch Company at the world of Supercars
July 26, 2017
What do we like more than spending time around super cars? Being around watches and supercars. This weekend Edinburgh Watch Company was up at Knockhill racing circuit for the annual World of Supercars event, which was magnificent.
Knockhill are continuously hosting fantastic events for all the family and seeing the huge variety of people's beloved cars was truly impressive. From track day kit cars, to some of the most expensive hyper cars in the world, there was something for everyone.
With everyone bringing such amazing cars, we felt that having something really special on our stand was essential.
On this particular occasion we we're offered an absolutely timeless classic 1954 Porsche 356 Pre-A by our good friends at Border Reivers. This particular car has a truly fascinating history.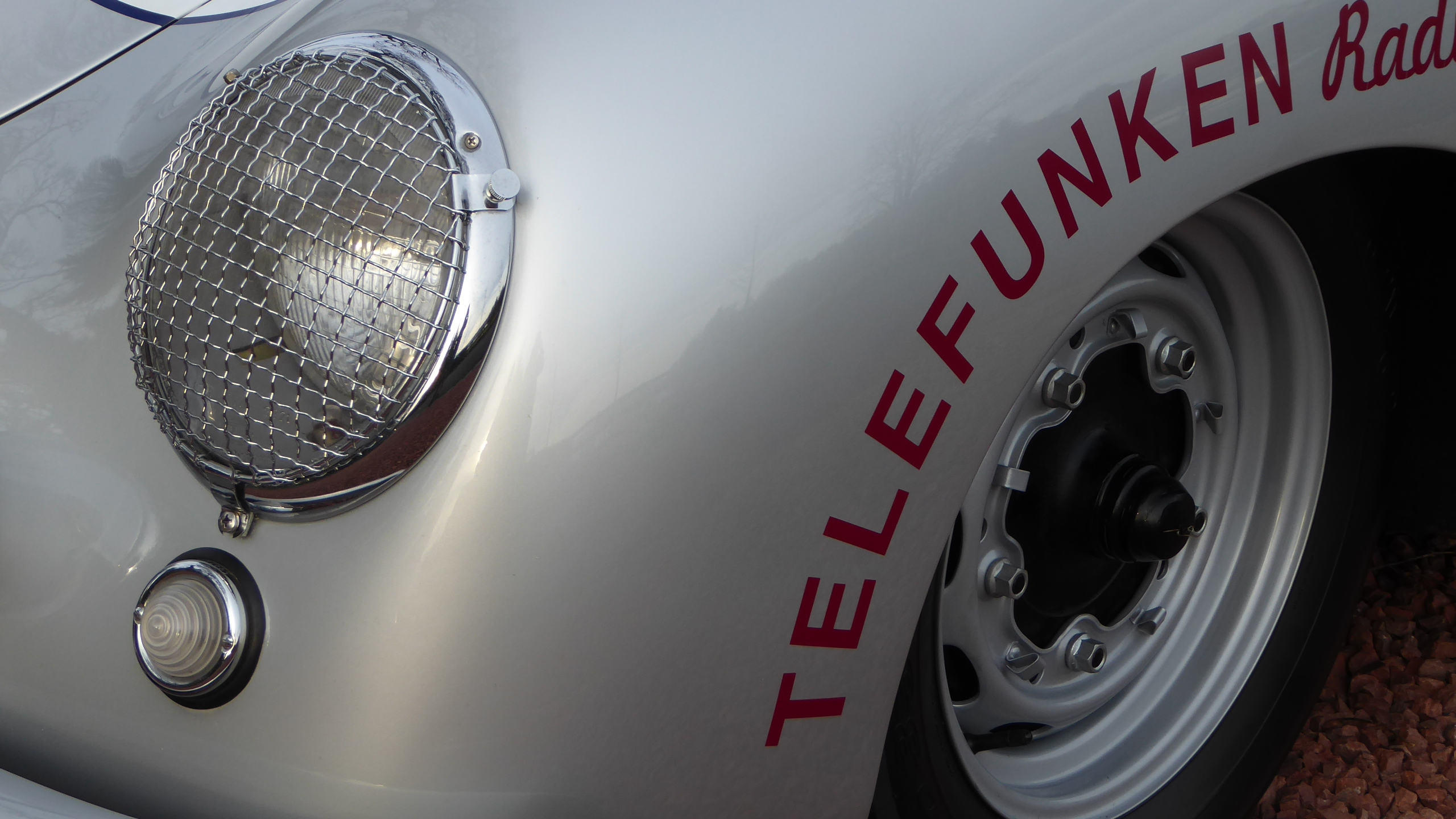 Being surrounded by such wonderful creations we really felt we had to bring an outstanding collection of new and used timepieces, and so as always, the best of the best were put on display for our visitors to enjoy.
As part of our display we chose to feature a very special timepiece, a limited edition Scuderia Ferrari Girrard-Peregaux, 1 of 250 which was snapped up almost immediately after our radio interview with Knockhill presenter Duncan Vincent. The new owner very much looks forward to wearing his fantastic rare timepiece.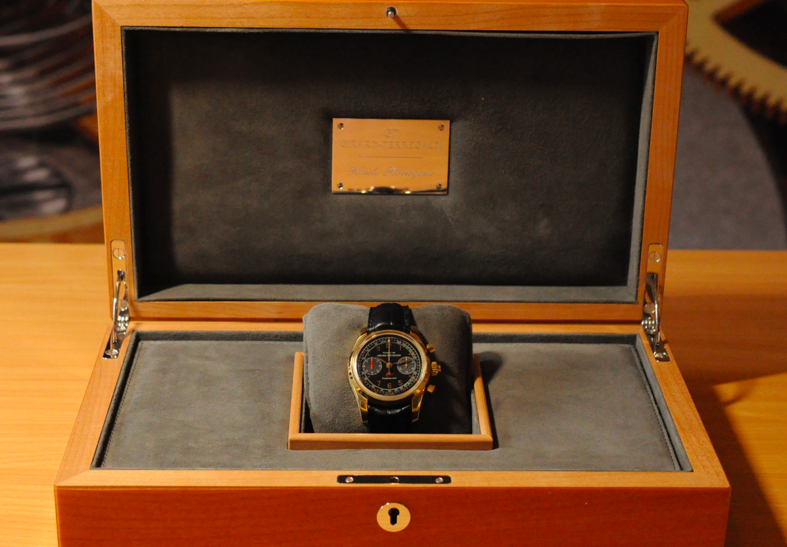 We'd like to say a very special thank you to each and every person who stopped by our stand for a chat and a look at our collection. We had a fantastic day out and we are very much looking forward to our next motoring event.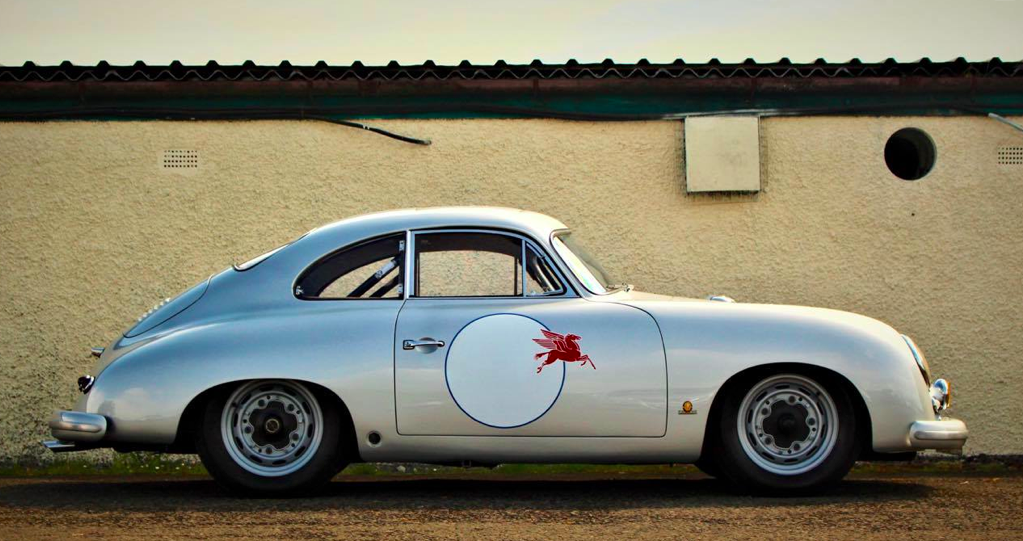 Porsche pic of the week
July 22, 2017
Porsche 356B
Sunday Cinema
July 22, 2017
SUNDAY CINEMA
 
Following on from our successful  "Sunday Worship" breakfast meetings, we are pleased to announce our first "Sunday Cinema" events, taking place at the Blythswood Square Hotel, Glasgow, on Sunday 22nd October & Sunday 19th November where we will be screening the classic movie "Le Mans" with Steve McQueen in the private 28 seat cinema.
http://www.classic-car-tours.com/sunday-cinema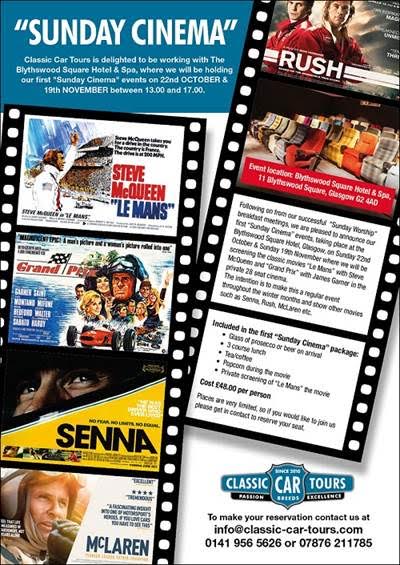 Included in the "Sunday Cinema" package
Glass of prosecco or beer on arrival
3 course lunch
Tea/coffee
Popcorn during the movie
Private screening of "Le Mans" the movie
Cost £48.00 per person
This may seem some time away, however places are very limited, so if you would like to join us please get in contact to reserve your place.
info@classic-car-tours.com
Regards & best wishes
Bill Telford
Tour Director
Classic Car Tours
00 44 (0)141 956 5626
Mobile 00 44 (0)7876 211785
Just a note to say a big thanks to Bill,  we think he does a fantastic job in organising these events, they are good quality events by a local lad who we should all support. Please have a look on his website. Don't take it for granted without your support it won't happen…… Tom (Border Reivers)
What do ex-Le Mans drivers get up too when they call it a day ?
July 18, 2017
Well ….. I don't actually know but our good friend Quick Nick Faure has started a cosmetic referral business . We wish him well. (see below)
Hi Tom, I have now launched the new business and have had very good reaction. If you hear of anybody who cannot get what they need medically or just want very good value quality cosmetic procedure please ask them to contact me.
Please look at my new business website www.rapidhealthcare4u.com which is now launched and recommend anyone you hear of needing really cheap value top quality medical help from cosmetic to serious back ops or cancer (we now do Proton Therapy). We have over 400 procedures that we can offer without referral and up to 70% off the same thing here and immediate! No waiting
Best regards
Nick