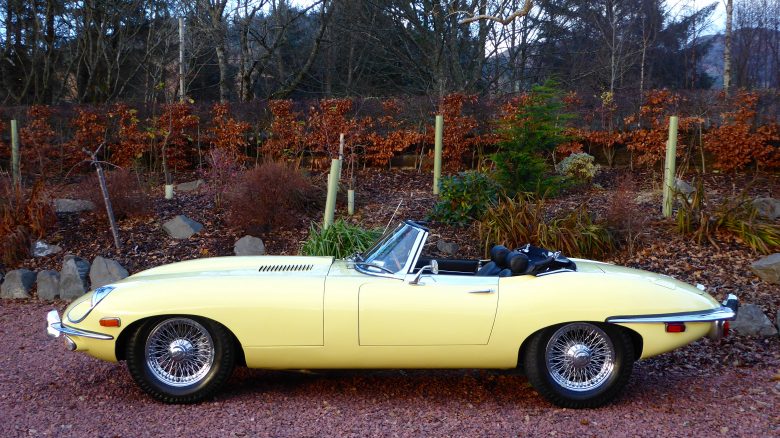 Border Reivers have done it again, offering yet another incredible low mileage car to the market.
This matching numbers, 1 Lady owner from new, E-Type Jaguar from 1969. Offered in its original LHD format with a genuine 45000 miles, it is surely unrepeatable. Included is the original stamped service book from 1969.  Just re-commissioned and ready for its 2nd custodian.
Introduced in 1968, the Jaguar E-Type Series II cars sported revised bumper and light arrangements. Less noticeable was the increased size of the front air intake that in conjunction with dual cooling fans made the newcomer better behaved in hot weather and heavy traffic. With its 4235cc engine developing a quoted 265bhp and 283lbft of torque, the Series II was reputedly capable of nearly 150mph and 0-60mph in 7.5 seconds.
According to its accompanying Heritage Certificate, this left hand drive example was originally finished in Primrose Yellow with Black interior – the colour scheme it pleasingly wears today. Manufactured on 22nd August 1969, it was dispatched to Herrington Motors of New York and purchased by its first and only private keeper, a Miss Sarah J Hammer.
Dry stored for twenty-nine years, an illness prompted Ms Hammer to take the car off the road in 1985 at which time it had covered just 45,000 miles (as confirmed by a letter on file). Subject to a mechanical overhaul by Klaus Motors of New York, the Jaguar was shipped to the UK thereafter and has since been treated to a new hood and carpets by Aldridge trimmers. A stainless steel exhaust, full service, fresh brake servo, replacement brake and clutch master cylinders and five new period-style Dunlop tyres.
A matching chassis and engine numbers example, this Jaguar is accompanied by the aforementioned Heritage Certificate, collection of invoices, handbook, original wallet with service book, original lifting jack in bag. A Nova document confirming all taxes paid and a current MOT with 'no advisories' expiring 10th April 2017. Presenting a very highly original and unusually low mileage Series II Roadster. The Jaguar is awaiting a second keeper to register it in their name. A rare opportunity indeed.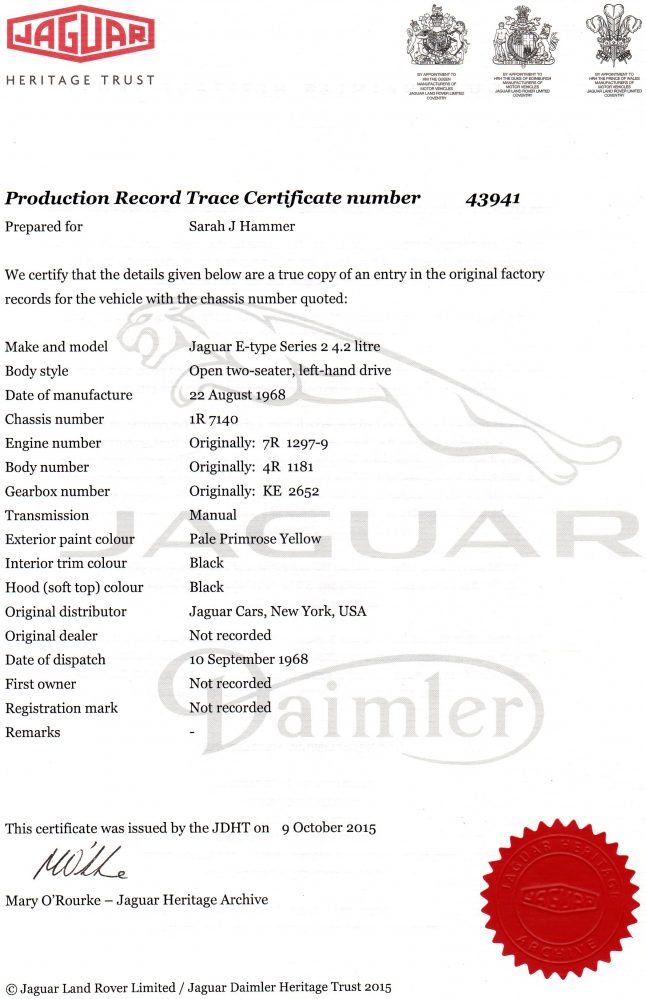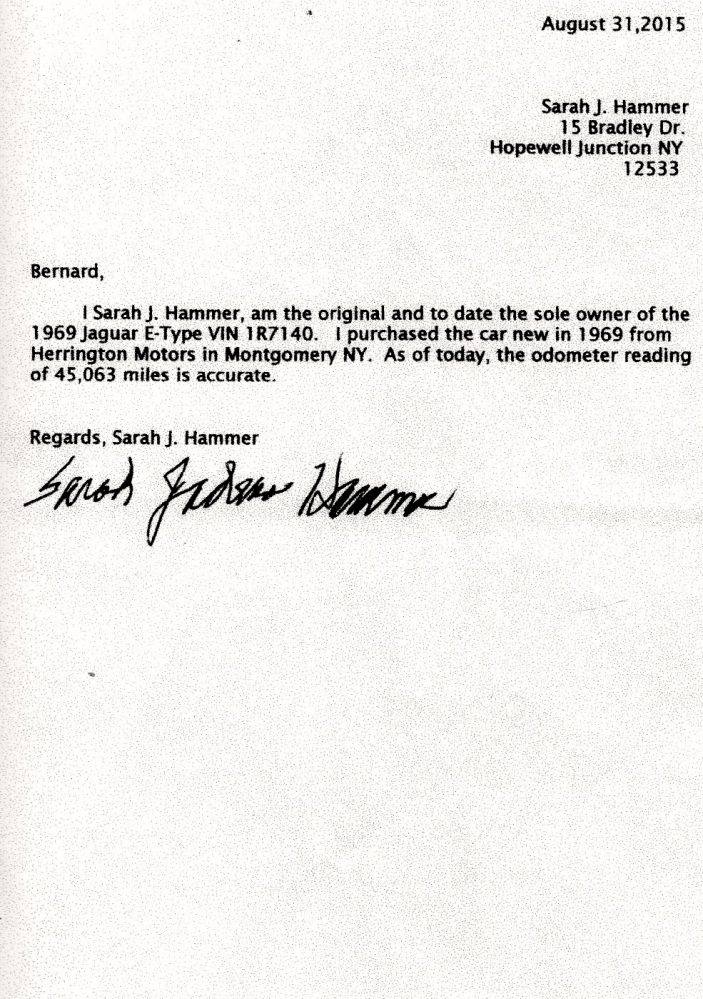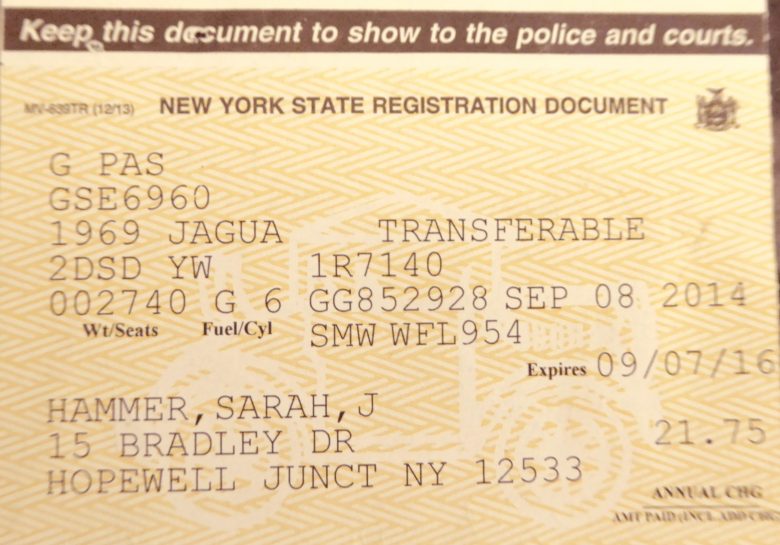 Above proof of continued ownership until 2016 Miss Hammer
£ 129999
FINANCE
Worldwide Shipping Specialists
If you have similar top quality cars like we sell, please call Tom on 07591112581.
Credit Brokers, Finance available
call Robert 08450264242 for a quote.
Border Reivers – We only purchase cars we would love to own.
Original sticker on the speedo (above)
Original service stickers on the B-post from the 70's (below)
USA (New York) road licence on the front screen. September 2016
The car in New York where its been since new (below)
New battery Miss Hammer, May 1980 (above)
Conformation of ownership & mileage from 1984 (above)
Continued ownership to 2016 (above)
Original documents wallet with the original service book & hand books.
Original service sticker from Herrington Motor in 70's, on the B' post (Below)